The concept expands
"I do believe there's room for Duffy's throughout the country. But we'd have to make sure we can grow without taking our eye off of what's very important to us — the quality, the hospitality, the culture of the company," Jason Emmett said.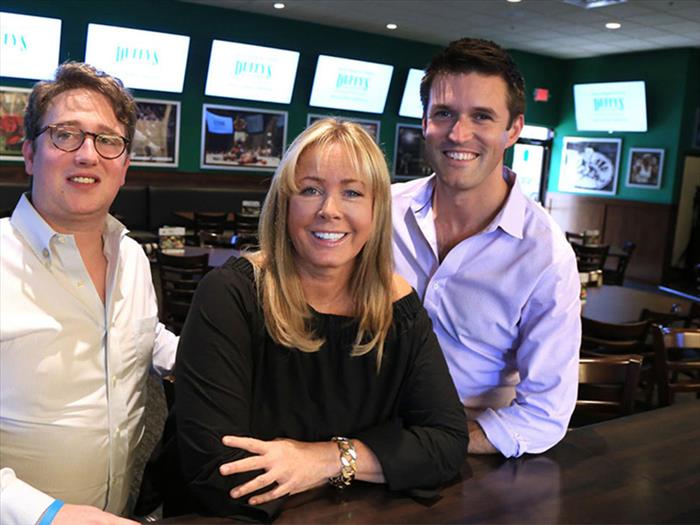 Duffy's sales grew 14 percent, to $130 million in 2016 from $114 million in 2015. Duffy's Sports Grill is gearing up to open its 34th restaurant in Florida on March 10, which was founder Paul Emmett's birthday.
"I feel like that's our gift to him," said Jason Emmett, president of the restaurant chain since his father died two years ago at age 62.
"When my Dad was around, I used to have the hardest time shopping for him for his birthday. I used to kid around the only thing I could ever get him was a new restaurant," said Emmett, 36, who for the past decade was groomed by his father to lead the company.
The Emmett family, which also includes Paul's widow, Geri, and son Alexander, 25, is working hard to preserve and expand the founder's legacy as he envisioned it.
Geri said as Duffy's new leader, Jason "shares many of his father's characteristics, from how he is in the restaurant with customers, to his negotiating skills to his business finesse. He's as natural at it as his father was."
The widow and sons of Duffy's founder Paul Emmett who died in 2015. Alexander, left, Geri and Jason Emmett. Carline Jean/Staff Photographer
Bruce Frank, the CEO and third-generation owner of Frank Entertainment Cos. that include Frank Theatres' CineBowl & Grille in Delray Beach, said Paul Emmett was "probably the best food operator in the country."
But Jason Emmett has a "grander vision" and the ability to "step outside his comfort zone," Frank said. "He's willing to go to the next step. Duffy's could be a household brand on a national scale."
Duffy's sales grew 14 percent, to $130 million in 2016 from $114 million in 2015. The company, which employs 3,200 people, operates under the concept of offering quality food at a good price, creating a "neighborhood" atmosphere, and keeping customers coming back through its popular "MVP" rewards program.
Sixty percent of Duffy's sales are from MVP customers, who know they get double points on Tuesdays, and a $10 credit after they spend $100, and other perks.
Patrick Fitzgerald, 38, is a Duffy's MVP "Hall of Famer," which means he spent at least $3,000 at the restaurant last year. As a result, he received 15 percent back on his card last year, plus $50 credit for his birthday and Christmas, along with a personal holiday card from Jason Emmett.
Fitzgerald said he frequents Duffy's on Clematis Street in West Palm Beach for the $7.99 soup-and sandwich lunch special. "They have consistently really good food," he said.
But the biggest reason he goes to Duffy's is because, like on the old TV show "Cheers," they "know his name."
"You don't just feel like another customer — you're a member of Duffy's family," said Fitzgerald, who recalls that Paul Emmett once solicited his opinion on a new menu item.
Paul Emmett was an experienced restaurateur from New York who 15 years ago decided to invest in Duffy's, then only in Lake Park, and build it into a statewide chain.
"He always had the vision. He had the fearlessness being able to just go for it," said Geri, a long-time marketing executive for Trish McEvoy cosmetics in New York who was married to Paul for 30 years.
Jason Emmett said that after his father died, one of his challenges was to open his first new location, in Cape Coral, without Paul's advice. The restaurant wasn't near a supermarket that would naturally draw customers.
But it was a "great looking building" and on the west coast where the chain wanted to expand. So he summoned Geri and Duffy's team members to examine the site. "We took a look at the building and said, 'what would my Dad do here?'," Jason Emmett said.
"So we did the deal and it has become our second busiest restaurant. I take some pride in that," he said.
In 2016, Duffy's opened restaurants in Tampa, Fort Myers and Kendall. The newest entry opening next month is in Sarasota.
The company opens three to four restaurants a year, in locations that previously housed another restaurant. "A lot of the work has been done for us — the grease traps are in, the permits are approved — it's efficient from a financial and timing perspective," he said.
While more stores in Florida are planned, the family is also considering opening locations outside the state.
"I do believe there's room for Duffy's throughout the country. But we'd have to make sure we can grow without taking our eye off of what's very important to us — the quality, the hospitality, the culture of the company," Jason Emmett said.
Geri Emmett said establishing Duffy's infrastructure was a priority for her husband. Duffy's has a team of supervisors that includes a director of operations, six regional managers, general supervision and culinary supervision, as well as experts in real estate, finance and marketing.
"My Dad had the hard job. He did the hard work of putting all these pieces into place," Jason added. "All I have to do is follow the road map he set out and keep that vision going. "
His brother Alexander, who was in college when his father died, has joined the company and is focusing on finance, digging into Duffy's financials and making recommendations where the restaurant can improve.
Geri recently turned her full attention to Duffy's Foundation, which operates programs including "Change for Charity," where customers can round up their bill and contribute those pennies to charity. Duffy's also contributes about 10 percent of its annual sales to the foundation. In 2016, the foundation raised $200,000 for community charities throughout the state.
Meanwhile, Duffy's is moving forward with initiatives such as raising its profile for food quality. Last year, the company opened a culinary studio in Lake Worth to develop new recipes and train its chefs. Duffy's recently won the regional "Neighborhood Award" from industry trade publication Nation's Restaurant News.
Innovations include a Duffy's MVP app, so customers don't have to carry their cards –just their mobile phone; and a kitchen display system so the chef can read the order digitally, not on a paper ticket.
And Duffy's has a new TV commercial, which it aired during the Super Bowl. In the commercial, viewers see Chef Eric Parker getting ready to cook and then Duffy's customers being served, as the announcer declares:
"To win at this game, you have to put in the work. Know the game plan and execute. At Duffy's, our game is always on."